Hanoi, located on the banks of the Red River, is one of the most ancient capitals in the world, where travellers can find well-preserved colonial buildings, ancient pagodas, and unique museums within the city centre.
A great place to explore on foot, this French-colonial city is also known for its delectable cuisine, vibrant nightlife, silks and handicrafts, as well as a multi-cultural community that's made up of Chinese, French and Russian influences. Meanwhile, its tranquil countryside is a short drive away, featuring lush parks, verdant mountains, and traditional villages, and not forgetting, the iconic Ha Long Bay.
A vibrant city with perfect kitchens – enchanting you with their culinary charms.
Hanoi is the capital of Vietnam, with approximately 8 million inhabitants. It's the second largest city of Vietnam and with its central location is the best springboard for visiting the region of northern Vietnam. Trains travel north every day destined for Lao Cai City which lies approximately 10 km from the border with China. From Lao Cai city you can go west towards the popular site of Sapa and Lai Chau and east towards Bac Ha and Ha Giang. Trains from Hanoi also serve the provinces of Lang Son and Ninh Binh , and reach Ha Long to the east and to the south of Vietnam (Ho Chi Minh City).

The history of Hanoi is extremely rich and has survived to this day.
Before 1010 Hanoi was known as Thang Long, in 1831 this city was renamed to Hanoi. In 1883 it was the capital of the French protectorate (Tonkin). Becoming the capital of the Democratic Republic of Vietnam happened in the years 1954 – 1976 and the capital of the united Socialist Republic of Vietnam happened in 1976. Large areas of Hanoi were built during the French occupation. This was reflected in French architecture, which can be seen here.
The main commercial center is Old Quarter with the famous Hoan KiemLake.
You can't miss a visit the Old Quarter, right here you can feel the atmosphere of Hanoi, unwind with a stroll around the lake and you'll find the perfect restaurants with local cuisine. Almost always you will see the lively daily life of the Vietnamese, tai chi, dancing, playing badminton or crawl. Skateboards and roller skates are also not an exception. In the Old Quarter there are plenty of shops with different goods from food to clothing. Hanoi is also a cultural center of Vietnam.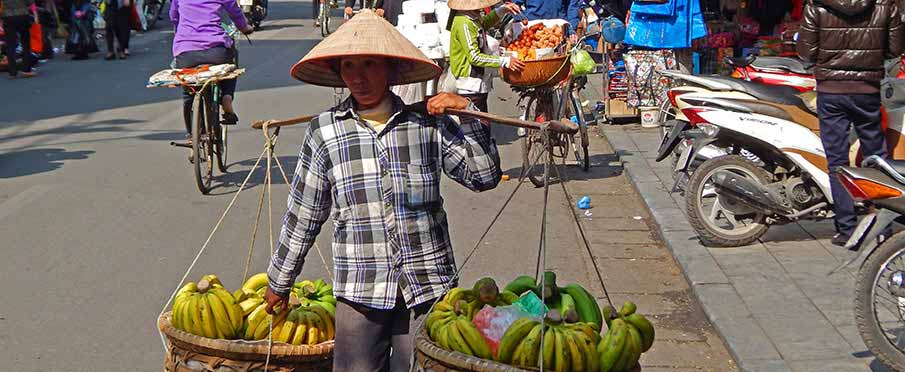 Hanoi is a wonderful place for a demonstration of French colonial architecture.
Paradoxically despite the communist regime there are a lot of luxury shops of the world's leading manufacturers of various goods. There are great differences between Hanoi and Ho Chi Minh city, the behavior of the population, a weak night life, slower construction of new buildings, the economically strongest city is now Ho Chi Minh (Saigon). Hanoi is quieter, more intimate than Ho Chi Min. In Hanoi an effort has been made to maintain the original character of the city. But also in Hanoi new buildings are growing and the city is slowly being upgraded.
It is a worth a visit the Hanoi historical monuments and sights.
In the western part of Hoan Kiem Lake in Hanoi you will find the most interesting monuments, that you can see here. Hanoi Cathedral, Ho Chi Minh Mausoleum and Museum, One Pillar Pagoda, Temple of Literature, The Imperial Citadel of Thang Long, and Tran Quoc pagoda, Quan Su Pagoda (a short walk from here is the main train station), Hanoi Ceramic Mosaic rural, Lenin park… All places that are not far away from each other, it is worth a visit and you can explore them on foot.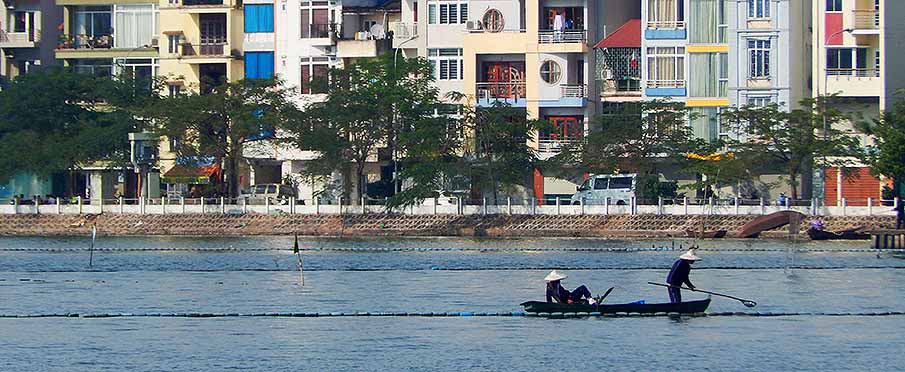 The Imperial Citadel of Thăng Long is a good place to relax in Hanoi.
The Imperial Citadel of Thăng Long and earlier historical city of Thang Long was a fortified complex in Hanoi, which for centuries served as the political, cultural and economic center of Hanoi and of northern Vietnam. It is a large historical complex, a short walk from Lenin Park, where you can see the old unique historical relics, the fort, the museum of historical objects, pottery and other remains. The whole place is very quiet and peaceful, good for relaxation away from the busy part of Hanoi. In 2010, it was included in the UNESCO World Heritage List. In some places there is ongoing excavation work and the foundations of the fort were discovered for example, with ponds, wells and other archaeological monuments. Tickets cost 30 000 dong and the visit takes at least half a day.
How To Get From Noi Bai Airport To Hanoi
Noi Bai Airport is located approximately 40 kilometers north of Hanoi. From the airport you can take taxi, local buses and buses of Vietnam Airlines.
Best Places To Shop In Hanoi
Weekend night market:
• Hang Dao street to Dong Xuan Market in the Old Quarter
• you can buy almost everything here
• Friday – Sunday from 19.00 pm
Vincom MegaMall Royal City:
• 72A Nguyen Trai street (about 7 km south-west of Hoan Kiem Lake)
• largest underground shopping center in Southeast Asia
• hundreds of shops and also modern apartments
• branded electronics, clothing, furniture and other goods
• water park, ice rink, cinema, 170 restaurants
Ba Trieu Street:
• this long street is full of shops, bistros and restaurants
• also luxury and expensive things
•  Vincom Center Ba Trieu – shopping center
Dong Xuan market:
• the northern part of the Old Quarter, the biggest market in Hanoi
• buy mainly clothes, accessories, fabrics
• open daily from 7.00 am to the evening
Trang Tien Plaza:
• southern part of Hoan Kiem Lake
• mainly focused on designer and luxury foreign goods
• open from 11.00 am to 20.00 pm
Hang Da Shopping Center:
• Hang Da street
• clothing, shoes, fashion accessories, bags …
• open from 10.00 am to 18.00 pm
Quang An Flower market:
• one of the most visited flower markets in Hanoi
• focused only on the sale of various flowers
• the best time for a visit is in the early morning (3.00-6.00 am)
Eating in the streets of Hanoi (Hanoi street food).
When moving around Hanoi you will see the constant presence of street vendors with food. Hanoi is a popular place for street food and the locals eat on the street everyday, its an all day event. Most of the population eats on the streets with hundreds of small tables and chairs, especially in the evening. Hundreds of minirestaurants, stalls, small mobile shops on wheels, women with hanging baskets and fruit, varied, tasty and healthy meals, you'll see it all in Hanoi.
Hanoi – tourist map: